President Thomas G. Mari
President / Principal Officer, Teamsters Local 25
Secretary Treasurer / Principal Executive Officer, Teamsters Joint Council 10 New England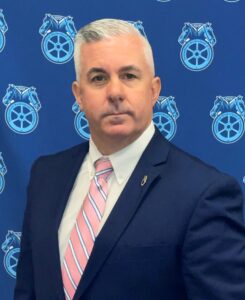 Thomas G. Mari was appointed President/Principal Officer by the Teamsters Local 25 Executive Board on February 25, 2022. He succeeds Sean M. O'Brien, who is the General President of the International Brotherhood of Teamsters.
Tom is a third-generation Local 25 Teamster and has served as an elected official of Local 25 since 2006. He most recently served as Secretary-Treasurer. He is a 30-year Teamster having worked at Airborne Express.
Tom also serves as Secretary-Treasurer/Principal Executive Officer of Teamsters Joint Council 10 New England representing more than 55,000 Teamster members and their families in Connecticut, Maine, Massachusetts, New Hampshire, Rhode Island and Vermont. He serves as the IBT Assistant Tradeshow Industry Director under the O'Brien administration.
Tom has served as co-chair of the Teamsters Local 25 Autism Fund since its inception in 2007. Teamsters Local 25 has been the premier fundraiser nationally for Autism Speaks and has raised millions of dollars for autism organizations locally and nationally. Local 25 has lobbied the Massachusetts Legislature on behalf of families affected by autism and worked to pass insurance reform that requires insurers to pay for autism-related expenses.