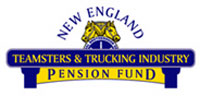 The New England Teamsters Pension Fund was established in 1958 to provide retirement income to eligible participants and their beneficiaries. The Fund is jointly administered by an eight-member Board of Trustees – four Trustees representing the Local Unions and four Trustees representing the Contributing Employers. All claims are processed at the Fund Office, which is located in Burlington, MA, under the direction of the Fund Manager. The Fund is qualified under IRC Section 401(a) and acts as a multi- employer, defined benefit plan within the meaning of IRC Sections 414(f) and (j).
New England Teamsters and Trucking Industry Pension Fund
1 Wall Street
Burlington, Massachusetts 01803-4768
Telephone, Local: 1-781-345-4400
Active Participants: 1-800-447-7709
Retired Participants: 1-877-638-3899
For the safety of our members and employees, the Fund Office will be closed to the general public at the present time. There will be a workforce on site and available via phone and email to provide services.
Click here to visit the New England Teamsters &
Trucking Industry Pension Fund website.